How To  submit site to search engines  like Google,Bing,Yahoo We highly recommend manually submitting your website pages to the search engines. That said, the search engines give no guarantee of ranking your page because you have manually submitted it. It is a tool that we use to let the search engines know that we have new information to share.
We suggest manual submission of your site's pages to Google, Yahoo! and Bing because they have made it apparent that it is what they prefer. The search engines have implemented manual submission as a best practice to protect themselves from extreme levels of spam.
It is important to submit your site's pages to all of the major search engines (Google, Yahoo!, Bing) because even though the other engines have less traffic than Google, they still have millions of users. When you submit a URL or domain name to the search engines, it could take anywhere from two to four weeks to get indexed. Sometimes your page will not get indexed after you submit it, if that occurs, wait four weeks and then resubmit the page again.
If you are unhappy with your web page's ranking results, take a look at what your competition is doing. Make sure you are following the basic rules of search engine optimization. Make changes to the page and resubmit it to the search engines. You can submit your pages a maximum of two times per month until you are listed in the major search engines' results
The first step to getting your site online and to get better rankings in Google is to submit your URL to search engines. An example of an URL is www.yoursite.com. Eventually the search engines will find your site but this will help expedite the process.Once you submit your URL, it could take several days, weeks, or months for the search engines to index your page(s). Results may vary so don't write this in stone. Factors such as other websites pointing to your site can affect this time as well.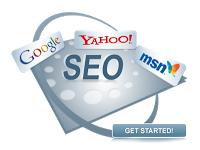 Submit Your URL To Google
1. Go to the following link: http://www.google.com/addurl/?continue=/addurl
2. Type in your URL, example: http://www.yoursite.com
3. Enter comments about your site. This is optional. Usually I enter the genre of the site and a few keywords. Example: Website design in Hollister, CA.
4. Enter the captcha text shown in the box
5. Select "Add URL"
Submit Your URL To Yahoo
1. Go to the following link:::
http://search.yahoo.com/info/submit.html
.2. Click on "Submit Your Site for Free"
3. You will be redirected to Bing. Follow the on-screen instructions for submitting your URL.
Submit Your URL To Bing
1. Go to the following link:
http://www.bing.com/toolbox/submit-site-url
2. Enter the captcha text shown in the box
3. Type in your URL, example: http://www.yoursite.com
4. Select "Submit URL"