Easy Way to Make a Beautiful Website with Best free Website Builder Strikingly is for building one page websites. One page websites have become popular in the last couple years. These websites typically have clear, simple information sections and large photos.  single page designs have their own advantages and flaws, but in a world where people tend to read diagonally skipping whole paragraphs and pages, running a single-page site may be a brilliant way to make them stop and pay attention to your product or service.
If you consider choosing such an unusual format for your next/first website, you should know there are one-page website builders that can make the process of website creation as easy as creating a Facebook account. Today I invite you to join me testing Strikingly, probably the easiest way to create beautiful one-page websites.
some features of Strikingly website creator tool
Designs
Strikingly takes a fresh approach to site design. The intention is clearly to make the process as easy as possible and to ensure that the design is attractive. But this comes at the cost of customization and control. The Editor Panel along the left doesn't offer page elements as most other site building services do. Instead, it lets you switch among and add sections, which show up as you scroll down a page. Within a section, you can only add elements dictated by the theme
Easy Ways to Use
Strikingly is easy-to-use. It provides an intuitive editor that makes the process of web creation engaging and fun. It's simple, beautiful and enjoyable. Launching a site with it can take as little as one hour and requires no coding knowledge, unless you decide to use their advanced HTML/CSS editor that lets power users make changes to the site's header and footer.
Blog
You can add the blog editor section to your home page. This lists your posts with links to individual pages which are not tied to your theme. These individual pages have their own style, but it's the same style regardless of the template you've chosen. But it's an unusual way to organize a blog which may not suit some bloggers. You can add comments and integrate with Discus (although Facebook comments are not possible. Another small issue is the fact that you can draft a post, but you cannot schedule it to go out at a specific time.
Strikingly eCommerce
Just like the Simple blog, the Simple Store is a section that you can add to any template. Simply enable the section, add your products, and try out different layouts to customize your store style. After, set up your payment method (PayPal or Stripe) and check out the Order Management Dashboard.
Pricing Policy
There's a free plan allowing you to publish a nice one-page website using Strikingly subdomain. To attach a custom domain name and unlock advanced editing tools, you have to upgrade your account. There are two packages: Limited and Pro.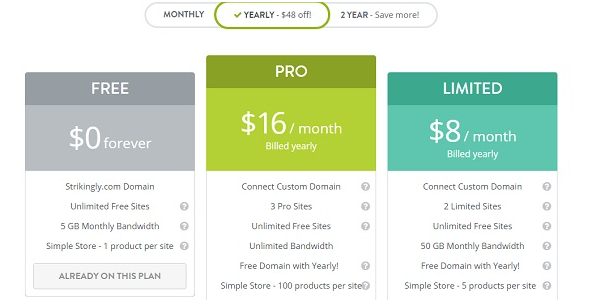 [button-green size="medium" url="https://www.nafisflahi.com/go/strikingly" target="_blank" position="center" ]Joine Now strikingly for Free[/button-green]
if you feel Best free Website Builder helped to create your online business website please do share it with your friends on facebook ,google+, twitter and share your review  about strikingly best website creator tool by comment below