PAN Card Application
PAN application is an easy and hassle-free process. Applications can be made both offline as well as online via the NSDL website. The Income Tax Department has roped in NSDL as well as UTIITSL as the two primary agencies responsible for furnishing PAN in the country. There are district level agencies too which are responsible for accepting PAN applications, processing them and furnishing the PAN to customers. Let us know what are NSDL and UTIITSL and the kind of work that they do.
Entities which can apply for PAN
There is a host of entities which can apply for PAN or request for correction/reprint of PAN card. These include individuals, HUFs, trusts, corporates, organizations, firms, local authorities, governments, minors, senior citizens etc.
Application for new PAN for Indian citizens
When an Indian citizen needs to pay taxes or carry out any transaction that mandates the use of PAN information, then he/she is required to apply for a Permanent Account Number. Application process for new PAN consists of two basic parts, first is filling of the application form and second is the dispatch of card by the Income Tax Department.
PAN is also an important identification document and is required for various transactions like bank deposits, mutual fund purchase, insurance purchase etc.
How To Apply for Pahchan Patra/Voter id Card online in Delhi
Application for new PAN for foreigners
Online PAN application for foreigners also follows similar guidelines as for resident Indians, however, the application form that needs to be filled and submitted is form 49AA. Foreigners who hold business or financial transactions in the country need to furnish PAN details and hence PAN card becomes an essential document for foreigners in India too. All foreign directors and those who hold business positions as part of Indian subsidiaries are required to have an Indian PAN regardless of their location (in or out of India).
Documents Required
To submit the application, you need to upload several documents to the PAN Services Unit website. You will need to upload a proof of identity, address and date of birth, along with a scanned passport photograph. Start by making a scan of any one document per section, for each section below:
1. Proof of identity
A copy of any one of these documents is acceptable as ID proof for a PAN card:
Aadhaar Card issued by the Unique Identification Authority of India
Elector's photo identity card
Driving licence
Passport
Ration card having photograph of the applicant
Arms license
Photo identity card issued by the Central Government or State Government or Public Sector Undertaking
Pensioner card having photograph of the applicant
Central Government Health Service Scheme Card or Ex-Servicemen Contributory Health Scheme photo card
Certificate of identity in original signed by a Member of Parliament or Member of Legislative Assembly or Municipal Councillor or a Gazetted officer
Bank certificate in original on letter head from the branch (along with name and stamp of the issuing officer) containing attested photograph and bank account number of the applicant
2. Address proof
Along with your photo ID, you'll also have to enclose an address proof in your application. Any of the following documents can be included with your form:
Aadhaar Card issued by the Unique Identification Authority of India
Elector's photo identity card
Driving licence
Passport
Passport of the spouse
Post office passbook having address of the applicant
Latest property tax assessment order
Domicile certificate issued by the government
Allotment letter of accommodation issued by Central or State Government of not more than three years old
Property registration
Certificate of address in original signed by a Member of Parliament or Member of Legislative Assembly or Municipal Councillor or a Gazetted officer
Employer certificate in original
You can also use one of the following documents, if it is less than three months old:
Electricity bill
Landline telephone or broadband connection bill
Water bill
Consumer gas connection card or book or piped gas bill
Bank account statement
Depository account statement
Credit card statement
3. Proof of date of birth
A copy of any one of these documents should suffice as proof of date of birth:
Birth Certificate issued by the Municipal Authority or any office authorised to issue Birth and Death Certificate by the Registrar of Birth and Deaths or the Indian Consulate as defined in clause (d) of sub-section (1) of section 2 of the Citizenship Act, 1955 (57 of 1955)
Pension payment order
Marriage certificate issued by Registrar of Marriages
Matriculation certificate
Passport
Driving licence
Domicile certificate issued by the government
Affidavit sworn before a magistrate stating the date of birth
How to apply for Pan Card Online
Go to https://tin.tin.nsdl.com/pan/form49A.html on the NSDL website you will see the page like this please fallout all column and click on submit button.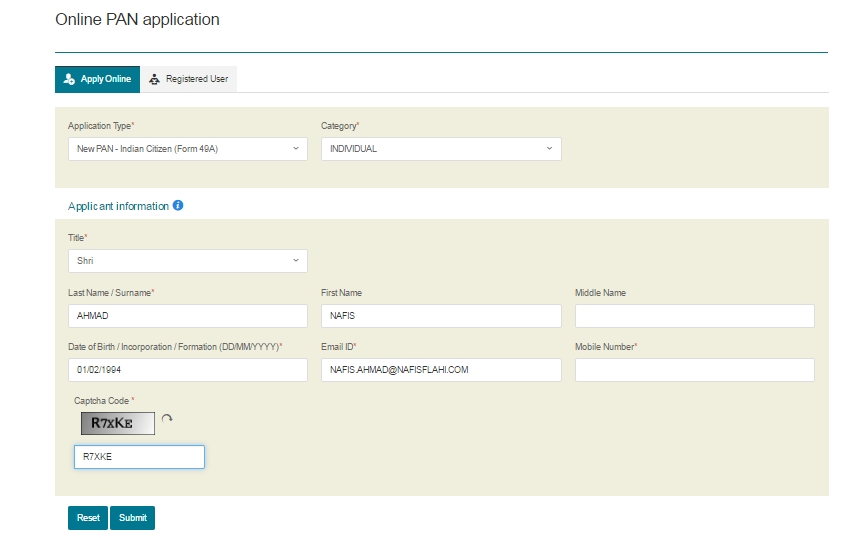 Scroll to the bottom and select Individual in the Apply for a new PAN Card drop down menu. Click on Select.
Now you can start filling the form. In case you have any doubts, visit this page for form filling guidelines.
The first field is AO Code, which you can look up here. You can also call the Income Tax department helpline at 18001801961 to find out about your AO code.
The other fields like name, gender, address, etc. are pretty self-explanatory, but remember to select the correct documents you will be submitting along with the application, from the drop-down window in point 15 on the form.
Once you've filled in all the details, select a payment method at the end of the form. The PAN card application fee is Rs. 105, but additional bank charges may apply depending on the payment method. If you want the PAN card sent outside India, the fee is Rs. 97. You can pay via demand draft, cheque, credit/debit card or net banking.
Click Submit when done.
Review all the details in your form. Make sure all spellings are correct and enter the captcha code, then click Confirm.
Now you'll see a page with payment terms and conditions. Note down the transaction number at the top of the page and click Agree.
Complete the payment.
You'll now see an acknowledgement form. This has a unique 15-digit acknowledgement number. Print this page.
Paste the two photographs on the printout of the acknowledgement (in the space provided).
Sign within the box on the acknowledgement form.
Put this form in an envelope with the cheque or DD (if you haven't paid online), and the required documents mentioned earlier.
On the envelope, write APPLICATION FOR PAN – ____. Fill in the blank with your unique 15-digit acknowledgement number.
Post it to NSDL at Income Tax PAN Services Unit, NSDL e-Governance Infrastructure Limited, 5th floor, Mantri Sterling, Plot No. 341, Survey No. 997/8, Model Colony, Near Deep Bungalow Chowk, Pune – 411016.
Your application must reach NSDL within 15 days from the date of online application. They'll send the PAN card to your address after processing the application. You can call 02027218080 to check the status of your application.
Video Tutorial How To Apply for Pan Card Online