Are you searching for how to check visa status online You can check your applied application, issued Saudi Arabia visa and other electronic services by entering your application number and passport number.
here a process can be used to check the visa status of Permanent visa as well as visit visa also. However, please note that for visit visa, "visa number" is not same as "visa application number" which is the number you get initially on MOFA website. To get visit visa number, visit MOFA website after approval of the application. For more details about check visa status online see the end of article.
Full Procedure for Checking the Visa Status
STEP 1
Go to Enjazit website by clicking this link – https://enjazit.com.sa/Enjaz/GetVisaInformation/Person
STEP 2
Enter the details as below:
1. Visa Number : Enter the visa number –
For permanent visa, it is the number got by sms (for online visas) or the number on the yellow slip (for manual/istiqdam process)
For Visit Visa, the process is given at the end of article.
2. Visa Issuing Authority : This is the location of the Saudi Embassy from where the visa is going to be stamped.
3. Sponsor ID : Enter your iqama number.
4. Image Code : Enter it as indicated in the box below.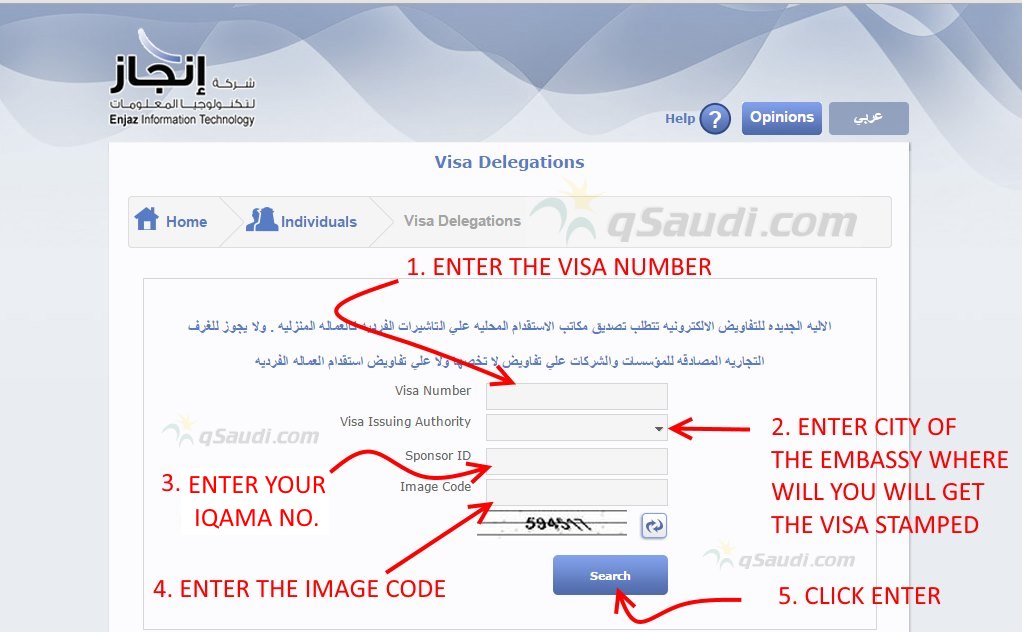 How To Find Visit Visa Number to Check Visa Status
This process applies to only visit visas applications which are showing as approved on the MOFA website. For the applications which are not approved, there is no benefit of this process.
Many of the people think that the "visit visa application number" is the actual "visa number" which is not correct.
The visit visa number can be got from the MOFA website as below:
What is MOFA Number?
MOFA(Ministry Of Foreign Affairs) Number is an online generated application number from ministry website once your visa application processed and visa, medical payments are done. This is done by registered agencies.
STEP 1
First, identify the application number. It is the number upper left corner in the visit visa application print out just
STEP 2
Goto https://visa.mofa.gov.sa/ and click English in the upper left corner.
Then enter the details as shown below:
1. Application Number: "Visit visa application number" as got from STEP 1
2. ID Number: Your Iqama number
3. Enter the code and click "Inquire"
You can see the status of visa application. If the visa is rejected or in the process, you will get one line text. If it is approved, then you will get the below text along with the names of person and their duration of visa.
Feel free to share your comments or ask your questions