If you're a YouTube publisher or thinking of starting a YouTube channel, you're going to want to pay attention to this post. I'm going to talk about the best youtube tool that will help you manage, optimize, and grow your YouTube channel, I'm talking about TubeBuddy.
TubeBuddy is the tool that I have used with my YouTube channel from few month. It provides creators with tools such as bulk editing, quick links, direct Facebook uploads, social monitoring, and so much more.
TubeBuddy is a browser extension built on the premise that creators should be able to spend more time creating videos and less time managing them. As a browser extension available on Chrome, Safari, FireFox and Opera, TubeBuddy integrates directly into YouTube's website and nearly all of our tools can be accessed right from inside YouTube's website.
In addition to the feature-packed premium plans, TubeBuddy offers a free version of the tool that still has plenty of helpful features. That means you can get started totally for free!
Let's take a look at all the ways this TubeBuddy YouTube tool can grow your channel and make you more money from YouTube…
Also Read:  Youtube: SEO Tips For YouTube Videos Search Rank Higher
HowTo Use TubeBuddy Tool
Here I'll show you how to install the TubeBuddy Google Chrome extension. TubeBuddy also has a Firefox extension. The process should be fairly similar for both browsers.
First, you need to go to the TubeBuddy website.
[button type="real" shape="square" size="regular" href="https://www.nafisflahi.com/go/tubebuyddy" target="blank" title="Example"][icon type="ticket"]reate an account on TubeBuddy[/button]
Click on the "INSTALL FREE ON CHROME" button: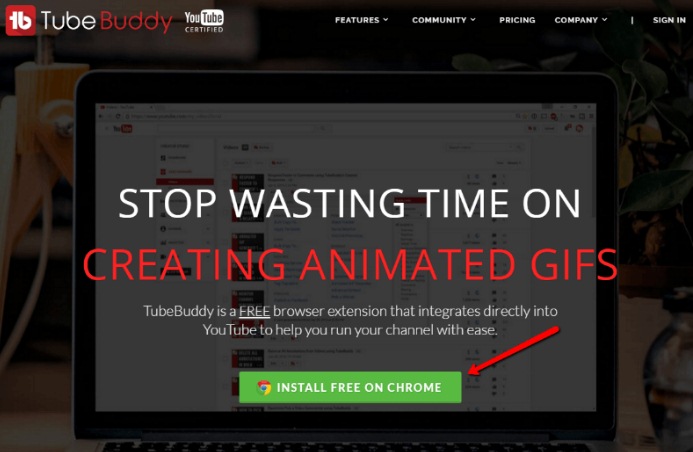 That will take you to the Google Chrome extension site.
On this page, click on "ADD TO CHROME":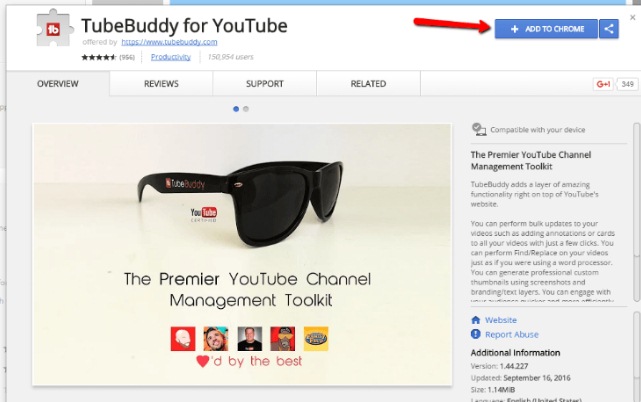 Now, you need to go to YouTube, Once your channel is properly linked, you should see a new TubeBuddy drop-down panel when you go to YouTube:

Quick Links
One of the simplest yet amazing features of TubeBuddy are the quick links. Within the YouTube dashboard, it is sometimes tedious and frustrating to navigate to particular areas of the creator studio. With the quick links from TubeBuddy, it's all in one simple drop down menu.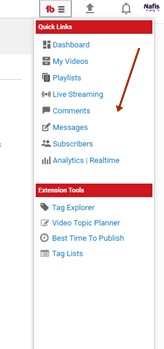 As you can see in the image above, you have access to any of the pages you would usually visit during your YouTube channel
Bulk Publish To Facebook
TubeBuddy makes it simple to publish your video to Facebook. But the best part of this feature is that TubeBuddy shares your video as a native Facebook video, not a YouTube video.
This gives you all the benefits of native Facebook videos, most notably auto playing.
It's also incredibly easy to publish a video to Facebook. All you need to do is click on the "Bulk" button and select "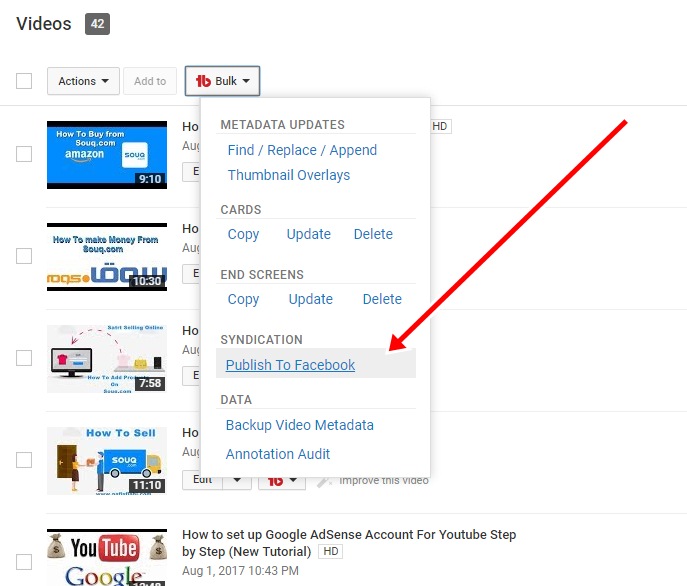 Tag Explorer
The tag explorer works just like a keyword tool. The feature allows you to research and find the best tags for your videos. And thus position your videos for higher ranking which will increase the viewability of the video.
To access your tag, just click on the TubeBuddy icon and locate the tag explorer at the right-hand corner of the drop down menu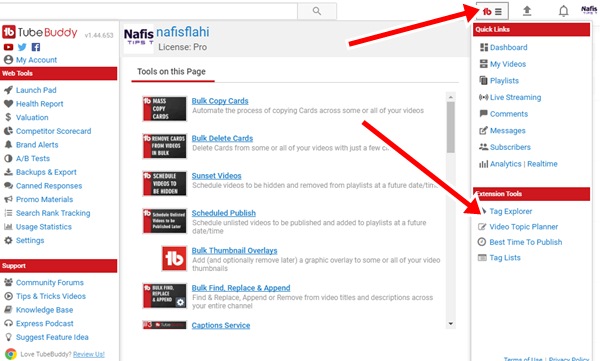 Enter one of your main keywords and TubeBuddy will do all the work to give you the best-related tags: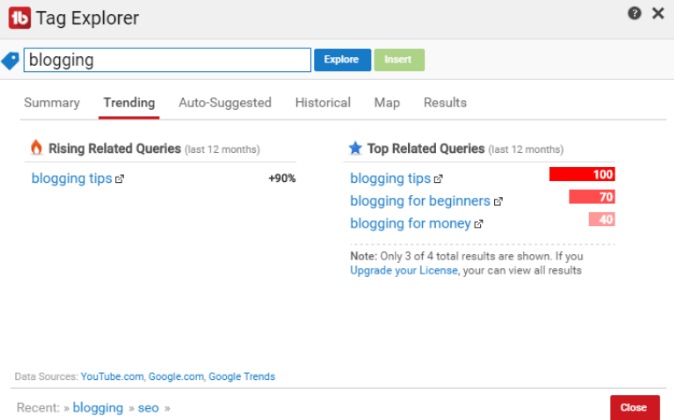 The tag explorer does more than what you're looking for.
First of all, the tag explorer gives you the must use tags and the percentage of use. As you can, we have the top 3 out of the 219 total result for the free version.
Secondly, on the top right, you'll see the top ranking in search videos.
Thirdly, below the top ranking search, you'll have the search volume, competition and makes the overall recommendation.
Find/Replace/Append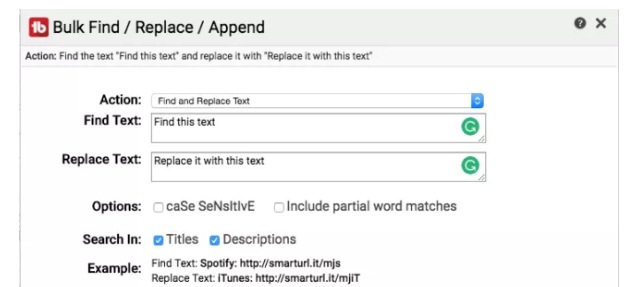 This is my favorite feature of TubeBuddy, the ability to find certain text in your video descriptions and then replacing that text with something new. Select an action such as "Find and Replace Text", and then type in the text you want to find and replace and then type in the new text that you want to replace it with.
Best Time to Publish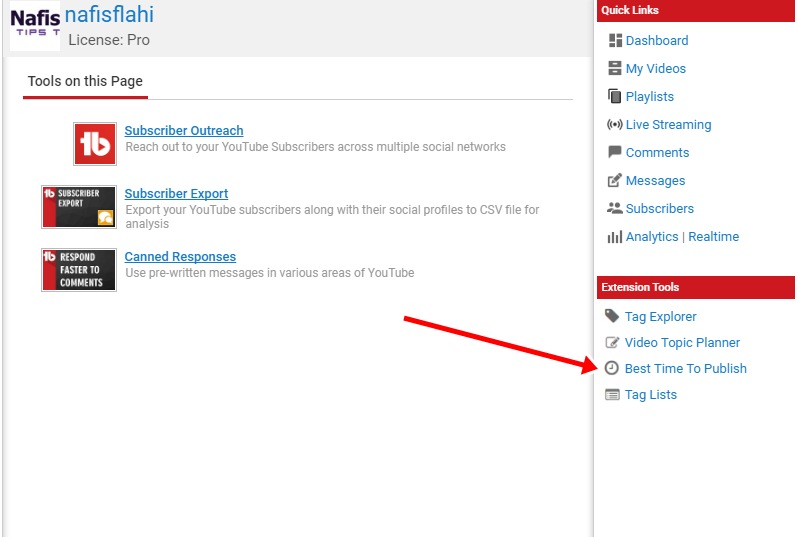 When you publish a new video, you should always try to schedule it for the time when most of your viewers are online. With TubeBuddy, you don't have to try to guess what time that is.
Other Great Features
Channel Backups
Competitor Scorecard
Manage Brand Alerts
Multiple YouTube Channels
A/B Testing
Optimal Upload Times
SO MUCH MORE
Brand Alerts
TubeBuddy Pricing 
TubeBuddy offers four different pricing tiers. They have a free version with some limited features, as well as three different premium plans:
The free plan is missing out on some key features like Facebook publishing and bulk processing. Its version of the Tag Explorer is also limited, which makes it less effective for YouTube SEO.
[button type="flat" shape="rounded" size="regular" href="https://www.nafisflahi.com/go/tubebuyddy" target="blank" title="Create an account on TubeBuddy"][icon type="ticket"]Create an account on TubeBuddy[/button]
TubeBuddy is one of the most popular YouTube tools for good reason. It's packed with powerful features that will help you manage and grow your YouTube account. It's also incredibly easy to use because everything is integrated inside of your existing YouTube dashboard.
Did you like this How To Grow YouTube Channel Using TubeBuddy Tool Share it with your friends on Facebook, Twitter, and Google Plus!